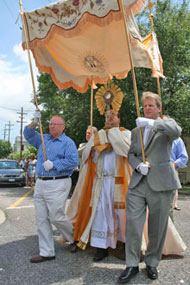 Since I arrived as pastor I don't think have received as many compliments about a parish event as I received about the Eucharistic Procession on the Solemnity of Corpus Christi. The procession was absolutely beautiful, and the fish fry afterwards was great! The list of those who need to be thanked is long and distinguished. My thanks begins with Kathy Fayard, our super chief organizer. Kathy took the lead from day one, and the final product is really a result of her hard work. But Kathy has asked me to thank a few others. Here is her short list: "Hunter and gang for meal/set up and cooking/tent and fans/purchase. Renee and Laura for planning meal and arranging all cooking/dessert making and purchase. Laura for program. Liam for chairs and tables and Mark for take down. Kate and Brian for music selection and choir. Matthew and Lennie donated baskets and ribbon (and scraped rose petals off floor at florist). Joyce set up Benediction. George for incense. Legion of Mary for Rosary in church. 4 canopy holders (Matthew, Raymond Bankston, Mark Zelden and Charles S.). Tyler for cross, 2 candle bearers (Jim and Dominic). The Daughters of Charity for participating in procession. The First Communicants from our parish and our school. Karl Fasold and NOPD friends who volunteered services. Lennie and Betsey for helping flower kids. Gary Scheets and Jim Pilet for photography!* Dixie for all numbers and copies and other info."
From the day I arrived here at Good Shepherd Parish, I knew that my most important job was to bring Jesus to people. This procession brought Him through the neighborhood!
Click here for plenty of photos of the procession and the fish fry afterwards.