The tradition of a St. Joseph Day altar came to New Orleans from the Italian people of Sicily.  During the middle ages, Sicily faced a severe drought, and the people were reduced to eating fava beans, which were usually given to the animals. They prayed for the intercession of St. Joseph, and their prayers were answered: the rains came! In thanksgiving, the people of Sicily developed a tradition to decorate the St. Joseph Altar on the right side of most of their churches (or to make a small private altar at home) with flowers, fruit, candles, wine, fava beans, specially prepared cakes, breads, fish and cookies. Since the Feast of Joseph (March 19) almost always occurs during Lent, no meat is allowed on the altar.
The custom of preparing an altar as a symbol of devotion to St. Joseph is rooted in the thanksgiving for his intercession years ago, but it also points to thanksgiving for a personal favor granted, for healing of the sick, or for success in business. Further, it's an opportunity for the prosperous to share with those who are less fortunate.
As you will see in our church next Friday, the altar is in the shape of a cross, and has three tiers, to represent the Holy Trinity. Breads and cakes on the altar take the form of common Catholic symbols. There is the Monstrance which holds the Holy Eucharist during Adoration (every Tuesday from 4:45pm – 5:45pm in St Stephen, and Thursday from 7:00am – 8:00am in St Henry).  There is a Chalice which holds the Precious Blood. And you can also note the Holy Cross, the dove (Holy Spirit), lamb (Jesus as the Lamb of God), hearts (Sacred Heart of Jesus, Immaculate Heart of Mary) and fish ("I will make you fishers of men").  A crown of thorns and a ladder refer to the crucifixion of Christ, and the palms testify to His victory over sin and death.
Besides the bread images, there are wine bottles representing the miracle of Cana, and whole fish representing the miracle of the loaves and the fishes.  Other items specific to Sicily include grapes, olives and figs reminiscent of the orchards and vineyards one finds there. Another food is the pignolatti: fried pastry balls joined together by caramel in the shape of a pine cone representing the pine cones Jesus played with as a child.
Probably the best known of the customs associated with the St. Joseph's Day altar is the fava bean.  Since it thrived while other crops failed, it became the sustaining food of farmers and their families. The dried bean is commonly called a "lucky bean," and legend has it that the person who carries a "lucky bean" will never be without coins.
The food to be served on Thursday will be wonderful Italian food, including pasta with red gravy, eggplant, artichokes, fried vegetables, fried fish and wonderful salads.  Additionally, foods will be served with a garnish of breadcrumbs to represent saw dust – since St. Joseph was a carpenter.  Last year more than 2000 plates were served over the course of the afternoon!
March 17, 2023
St. Patrick of Ireland is one of the world's most popular saints. He was born in Roman Britain in the 5th century. When he was a young boy he was captured by Irish pirates and taken to Ireland as a slave to tend sheep. Ireland was a land of druids and pagans but Patrick turned to God for help. In his Confession, he later wrote:
After I came to Ireland the love of God and His fear came to me more and more, and my faith was strengthened. And my spirit was moved so that in a single day I would say as many as a hundred prayers, and almost as many in the night, and this even when I was staying in the woods and on the mountains; and I used to get up for prayer before daylight, through snow, through frost, through rain, and I felt no harm, and there was no sloth in me– as I now see, because the spirit within me was then fervent.
Patrick's captivity lasted until he was twenty, when he escaped after having a dream where God told to leave Ireland by going to the coast. There he found sailors who took him back to Britain and was reunited with his family.  A few years after returning home, Patrick saw a vision he described in his Confession:
I saw in the night the vision of a man, whose name was Victoricus, coming as it were from Ireland, with countless letters. And he gave me one of them, and I read the opening words of the letter, which were, "The voice of the Irish"; and as I read the beginning of the letter I thought that at the same moment I heard their voice — they were those beside the Wood of Voclut, which is near the Western Sea– and thus did they cry out as with one mouth: "We ask thee, boy, come and walk among us once more."
The vision prompted Patrick to study for the priesthood. He was ordained by St. Germanus, the Bishop of Auxerre, and was later ordained a bishop and sent to take the Gospel to Ireland.
Patrick arrived in Slane, Ireland on March 25, 433. The most prominent legend about him was that he met the chieftan of one of the druid tribes, who tried to kill him. After an intervention from God, Patrick was able to convert the chieftain and preach the Gospel throughout Ireland.
Patrick preached for 40 years and converted all of Ireland before he died on March 17, 461.  He is believed to be buried in Down Cathedral, Downpatrick. His grave was marked in 1990 with a granite stone.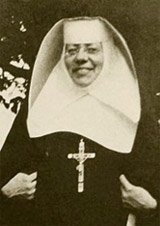 Born in Philadelphia, Pennsylvania on November 26, 1858, Katharine Drexel was the second daughter of Francis Anthony Drexel and Hannah Langstroth. Her father was a well-known banker and philanthropist. Both parents instilled in their daughters the idea that their wealth was simply loaned to them and was to be shared with others.
Early in her life, while on a trip with her parents, Katharine saw the plight and destitution of the native Indian-Americans. This experience aroused her desire to do something specific to help alleviate their condition. This was the beginning of her lifelong personal and financial support of numerous missions and missionaries in the United States. The first school she established was St. Catherine Indian School in Santa Fe, New Mexico (1887).
On January 27, 1887, Katharine had a private audience with Pope Leo XIII in Rome, and asked the Holy Father for missionaries to staff some of the Indian missions that she as a lay person was financing. She was surprised to hear the Pope suggest that she become a missionary herself. After consultation with her spiritual director, Bishop James O'Connor, she made the decision to give herself totally to God, along with her inheritance, through service to American Indians and Afro-Americans.
Her wealth was now transformed into a poverty of spirit that became a daily constant in a life supported only by the bare necessities. On February 12, 1891, she professed her first vows as a religious, founding the Sisters of the Blessed Sacrament whose dedication would be to share the message of the Gospel and the life of the Eucharist among American Indians and Afro-Americans.
Always a woman of intense prayer, Katharine found in the Eucharist the source of her love for the poor and oppressed and of her concern to reach out to combat the effects of racism. Knowing that many African-Americans were far from free, still living in substandard conditions as sharecroppers or underpaid menials, denied education and constitutional rights enjoyed by others, she felt a compassionate urgency to help change racial attitudes in the United States.
Founding and staffing schools for both Native Americans and African-Americans throughout the country became a priority for Katharine and her congregation. During her lifetime, she opened, staffed and directly supported nearly 60 schools and missions, especially in the West and Southwest United States. Her crowning educational focus was the establishment in 1925 of Xavier University of Louisiana, the only predominantly African-American Catholic institution of higher learning in the United States. Religious education, social service, visiting in homes, in hospitals and in prisons were also included in the ministries of Katharine and the Sisters.
In her quiet way, Katharine combined prayerful and total dependence on Divine Providence with determined activism. Katharine left a four-fold dynamic legacy to her Sisters of the Blessed Sacrament, who continue her apostolate today, and indeed to all peoples:
– her love for the Eucharist, her spirit of prayer, and her Eucharistic perspective on the unity of all peoples;
– her undaunted spirit of courageous initiative in addressing social iniquities among minorities — 100 years before such concern aroused public interest in the United States;
– her belief in the importance of quality education for all, and her efforts to achieve it;
– her total giving of self, of her inheritance and all material goods in selfless service of the victims of injustice.
Katharine Drexel beatified on November 20, 1988 and canonized on October 1, 2000, both by Pope St. John Paul II.
While many people give candy, flowers and cards to each other on February 14, few know the connection between "Valentine's Day" and the Catholic Church. Until the most recent revision of the Roman Calendar in 1969, February 14 was the Feast of St. Valentine. Little is known of the Saint except his name and that he was buried at the Via Flaminia north of Rome on February 14. It is even uncertain whether the feast celebrates only one saint or more saints of the same name. However, "Martyr Valentinus the Presbyter and those with him at Rome" remains in the list of saints proposed for veneration by all Catholics.
The Feast of St. Valentine was first established in 496 by Pope Gelasius I, who included Valentine among those "… whose names are justly reverenced among men, but whose acts are known only to God." As Gelasius implied, nothing was known, even then, about the lives of any of these martyrs. The St. Valentine that appears in various martyrologies in connection with February 14 is described either as a priest in Rome, a bishop of Interamna, or a martyr in the Roman province of Africa.
The first artistic representation of Saint Valentine appeared in the Nuremberg Chronicle, (1493), one of the earliest printed books in the world. The text alongside a woodcut portrait of Valentine states that he was a Roman priest martyred during the reign of the Roman Emperor Claudius (268-270). Once Valentine had been arrested and imprisoned, Claudius took a liking to the holy man. This friendship changed when Valentinus tried to convert Claudius, and the Emperor condemned him to death. Initially, he was beaten with clubs and stoned. When he didn't immediately die, he was beheaded outside the Flaminian Gate, and buried at the site.