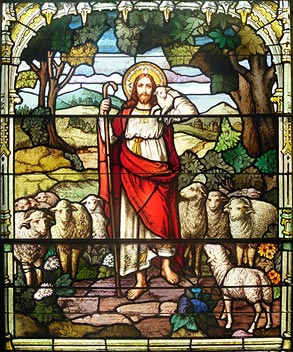 I rejoice heartily in the LORD,in my God is the joy of my soul;for he has clothed me with a robe of salvation and wrapped me in a mantle of justice,like a bridegroom adorned with a diadem,like a bride bedecked with her jewels.(Is. 61:10)
The coming of the Messiah was something eagerly anticipated by the Jewish people. His coming was to be a time of great rejoicing (Gaudete!) It represented the intervention of God into the affairs of men. No longer would they be hungry or thirsty or oppressed or crippled. They would be delivered from the difficulties of this life and live in a new reality without fear. God would be with them, according to the promises of His Covenant.
However, the appearance of the Messiah was disputed. Would he be a great king, like David? Would he be a great prophet,like Moses? Would he be a great judge, like Solomon? Understanding the prophecies of Isaiah was difficult. And that is what botheredJohn the Baptist and his disciples when confronted with Jesus. Of course, John knew that Jesus was the "Lamb of God"; he testified as such. He understood that Jesus would be like a "lamb led to the slaughter," and would sacrifice Himself. But this didn't seem to jibe with John's understanding of the Messiah, whom he expected to be a great judge – one who would "separate the wheat from the chaff."
And so the disciples of John approach Jesus today and ask Him: "are you the one who is to come?" And Jesus responds enigmatically with the prophecy of Isaiah. What that Gospel passage points to is a dual coming. John has prepared the way, and Jesus has begun His ministry. But the ministry is one of phases. First, he unites Himself with man through the Incarnation. Second, He teaches. Third, He suffers, dies, rises from the dead, and ascends to the Father. Fourth, He sends His Holy Spirit so that all might know the meaning of His revelation. And then He gives us (humanity) time to prepare for His coming in glory. In other words, the answer to the disciples question is in the affirmative. Jesus was already there, but – even more – Jesus is "the one who is to come."
We currently live in a period of time of "expectant longing" for the return of Christ in His glory. And during this time, Jesus gives us all the means to prepare ourselves for that coming: through the Sacramental life of the Church by which we receive the gifts of the Holy Spirit; through the intercession of the Saints, most particularly the Holy Mother of God; and through the infallible guidance on faith and morals of the Holy Catholic Church. How blessed are we to recall these things as we celebrate this season of expectant longing that we call Advent. Be strong! Fear not!


(Rev. Msgr.) Christopher H. Nalty
msgr.nalty@gmail.co