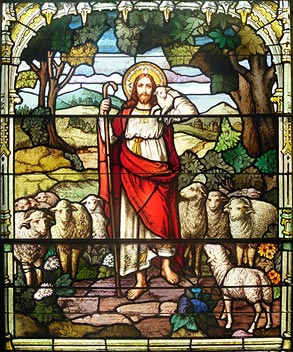 "We give thanks to God always for all of you, remembering you in our prayers,unceasingly calling to mind your work of faith and labor of love and endurance in hope of our Lord Jesus Christ, before our God and Father, knowing, brothers and sisters loved by God, how you were chosen.  For our gospel did not come to you in word alone, but also in power and in the Holy Spirit and with much conviction." (1 Thes. 1:2-5)
A number of years ago, I remember the Archbishop calling all priests to a Holy Hour of Adoration before the Blessed Sacrament at St. Louis Cathedral.  And the way he did it was so succinctly Trinitarian.  He asked us to "come let us pray with Our Lord Jesus to the Father that He will send the Holy Spirit down upon us."  I remember hearing it and having a new and different understanding of prayer before the Blessed Sacrament.  Instead of just directing my prayers, petitions, troubles, glory, honor and praise to Jesus in the Blessed Sacrament, the Archbishop made me realize that I was praying with Jesus, who constantly intercedes for us to the Father.  And since the graces of God come through the Holy Spirit, together with Jesus, I was asking the Father to send the Holy Spirit.
We only know about God the Father because He has revealed Himself to us.  And He did so definitively through Jesus Christ and the Holy Spirit.  And what He has revealed to us is called the "Deposit of Faith."  It's a deposit that's richer and deeper than the deepest gold mine.  And the deeper we dig, the more we grow in our knowledge of God.  But we don't dig solely by reading and studying.  We also do so through prayer.
Each Tuesday evening from 4:45 – 5:45pm, we have exposition and Adoration of the Blessed Sacrament in St. Stephen Church.  And each Thursday morning  from 7:00-8:00am, we have exposition and Adoration of the Blessed Sacrament at St. Henry Church.  It's a time when a few of us regularly pray together with Jesus to ask God the Father to send the Holy Spirit down upon our parish and ourselves.  I just wish there were more of us there!  It's wonderful that we have so many parishioners who are active in so many ways in the parish.  But I do know that the greatest gifts are the ones that don't require our human efforts.  They are the gifts that come to those who seek God with a sincere heart and a devout prayer life.  Nowhere is prayer my efficacious than before the Blessed Sacrament.  "Can you not stay awake with me one hour?"  (Mt. 26:40)


(Rev. Msgr.) Christopher H. Nalty
msgr.nalty@gmail.com