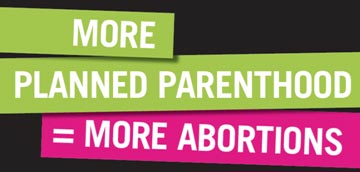 Planned Parenthood Gulf Coast, an affiliate of Planned Parenthood (PP), the largest abortion business in the nation, plans to open a 7,000 square foot facility on Claiborne Ave in 2014. This multimillion-dollar "New Orleans Health Center" will become a regional abortion center in the heart of New Orleans, leading to an increase in abortions in New Orleans.
PP consistently shows a trend of driving women to choose abortion instead of options that are less financially beneficial for PP, such as adoption or prenatal care.
PP is the nation's largest abortion business, performing approximately 1/3 of U.S. abortions (PP performed 333,964 abortions in 2011, more than the population of Orleans Parish).
PP abortion numbers have continued to increase, as national abortion rates have decreased or remained consistent.
PP Performs abortions on 9 out of 10 pregnant women who walk through their doors.
PP performed 145 abortions for every one adoption referral in 2011. Abortions that year were 92% of PP's pregnancy services, while prenatal care accounted for 7% and adoption referrals for 0.6%.